This Taxi Is Paid By Pitching Business Ideas That Tackle Climate Change
Startups had a chance to pitch to clean energy company Fortum on a moving electric vehicle during the Finnish startup event Slush. With Pitchalong Shuttle, Fortum seeked for partnerships with sustainable and innovative startups in order to find digital solutions for tackling climate change.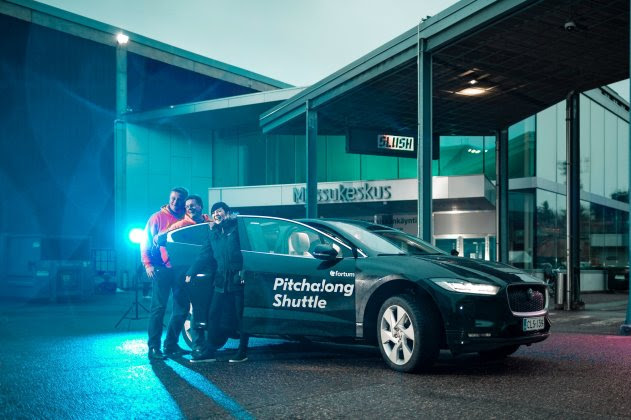 Fortum Pitchalong Shuttle is a new EV-taxi where sustainable and innovative startups pitch their ideas directly to Fortum's executives. A moving electric vehicle is emission-free, private and silent meeting space. Fortum is looking for world-changing ideas that can help tackle climate change. The most successful startups have a chance to kick-start a beneficial partnership.
Looking for solutions for a cleaner world
The majority of Fortum's energy production is CO2-free. They develop solar energy solutions and also provide plastic recycling and waste management. Now the clean energy company is looking for startups to join the change for a cleaner world. "We are looking for visionary ideas that can have a huge positive impact on the society and the environment. The concept of a cleaner world is a very large idea. No one company has all the resources, the assets, and the ideas to do that. Collaboration with innovative startups is essential for our work towards a cleaner world", states Arun Aggarwal, Fortum's Head of Business Technology. "We had many positive encounters at Slush and will now continue discussions with the most promising partner prospects", Aggarwal continues.
A great example of Fortum's successful partnership that started at Slush last year is the one with Plugsurfing, Europe's largest network for EV charging. Fortum acquired the company in March 2018. Plugsurfing provides access to over 81 000 charging points across Europe, including Fortum's own Charge & Drive network.
Investing in a better future at Slush
To boost the growth of potential startups, Fortum has become the major investor in Valo Ventures, an independent venture capital fund led by Scott Tierney, a former Google Capital co-founder. Valo Ventures focuses especially on finding solutions to problems related to megatrends such as urbanization, climate change and circular economy. The new fund was launched at Slush. Fortum also partnered with Slush in order to make the event as sustainable as possible. "We aim for real and tangible progress towards a cleaner future through actions of all sizes. That is why we compensated the carbon footprint of the entire Slush event – a total of 10 000 tons of CO2", finishes Elina Kokko, Communications Manager at Fortum.