Startup Profile: HelloSponsor
By Richard Fairfield
Who is Greg Kubin?
New York state of mind Kubin (think Horace Mann and Cornell) had been two years in his marketing strategy role at Viacom, after a year and a half analyst stint at Morgan Stanley. Perhaps a little restless, Kubin started helping colleagues and friends find sponsorships to help them promote their products. As he became a brand matchmaker, making good sponsorship connections, he realized how inefficient the process was. Thus began his ideation phase.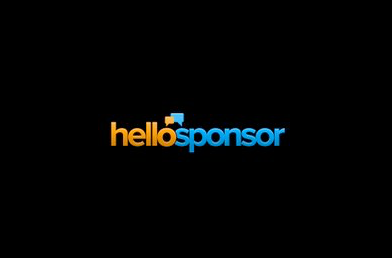 Kubin reached out through cold calls and networking. When he spoke to brands, they were highly interested in events, but overwhelmed with all the events for which they had already committed. They emphasized that any new project just had to be the "perfect fit".
During this phase, he met co-founder/CTO, Ila Mirkin. Mirkin, a Google alum who has a both a Masters and a BS at MIT had two double majors: computer science/physics and computer science/electrical engineering. Kubin and Mirkin, then VP Engineering at Yext, discovered a second, more important need that mere matchmaking. Brands were so inundated with sponsorship requests, it was simply too hard for them to manage their day-to-day activities. They needed a repeatable, systemic process to select high ROI generating "perfect fits" from the deluge of emails and cold calls.
The Tip of the Iceberg
Identifying that process was very manual and time consuming. As the dynamic duo determined the brands' needs, there were many suggestions for specific features such as management to dos, budget related tasks, exploding out all the specific elements to be provided at the event: task management, contracts, collateral, and tracking both external and internal costs, as they were handling a fair amount of beer and liquor sponsors.
AngelPad*
In the winter of 2014, Kubin and Mirkin successfully applied to be one of AngelPad's 12 teams chosen from of pool of 2000 applicants. During that intense three month program, they developed an event capturing module that tracked social media and photos for their B2C clients, and leads for their B2B clients, enabling collaboration of distributed teams, and developing their secret sauce.
Secret Sauce
HelloSponsor tightly focuses on sponsors needs by providing visibility and insights for management, logistics, and tactical planning for worker bees. They offer sponsors the ability to decide which events are working and which are not based on set goals. The SaaS tool integrates with CRM software and does automated email capture.
What's Next
Expanding from its start in the food and beverage industry, HelloSponsor is branching out to law firms, professional services, tech companies and select consumer segments. They target firms that sponsor/attend/speak at 50+ events per year. Their goal is to become the sponsorship analysis and tracking leader in food, beverage and law by the end of 2017. Currently, HelloSponsor is off to great start with over 100 event marketing teams engaged.
*According to a 2015 MIT/Brown study, AngelPad, which conducts its seed stage accelerator program in both SF and NYC is the #1 accelerator in America.
Richard Fairfield is a writer and the Chief Revenue Officer for The Social Media Monthly.