The Social Media Monthly Announces Open Submission Period
For The Best of Social Media 2016 Awards
The Social Media Monthly announces the open submission period for The Best of Social Media 2016 Awards, honoring the most outstanding social media innovators and campaigns from around the world.
The program is open for entries starting at 12:01am PST May 1st, 2016 with a deadline of 11:59pm PST June 3rd, 2016. Winners be selected through a process of review by internal staff and outside judges.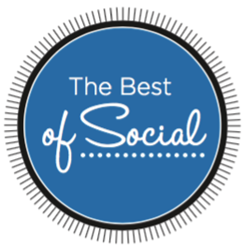 The announcement of winners and award presentations will be made at the end of The Realtime Marketing Lab conference during an evening awards ceremony taking place in Chicago on June 28th, 2016 at 5pm.
"We're very excited to finally launch our annual awards program, and waited until we had a platform built on integrity and worth to the community," said Robert Fine, Publisher of The Social Media Monthly. "As a way to provide continuing value to the community and recognition of the best campaigns, we'll be publishing a printed book compilation of all the category winners and honorable mentions at the end of the summer. This will be a best of ideas book that any marketer will be able to browse and reference for inspiration for their next big campaign."
Details for submitting an entry can be found at TheBestofSocial.com.
The following categories are available for nominations:
Best Woman in Social Media of The Year
Best Digital Communicator
Best Blog
Best Community Campaign
Best Contest/Game
Best Influencer Program
Best Listening Campaign
Best Social CRM
Best Social Impact
Best Social Media Networking Campaign
Best Use of Facebook
Best Use of Instagram
Best Use of LinkedIn
Best Use of Live Streaming
Best Use of Pinterest
Best Use of Snapchat
Best Use of Twitter
Best Use of YouTube
Best Viral Campaign