Social Media and the Polls: Can Likes and Followers Predict an Election?
By Kelly Shelton
We live in a fast paced society. We want things: goods, services, and information, as soon as possible. With social media, we have easy and instantaneous access to information about national and global events, including the 2016 presidential election.
At no time in the history of elections have United States citizens been so vastly exposed to campaign slogans, platforms, viewpoints, speeches, and debates. But what role exactly does social media play in the current race for president?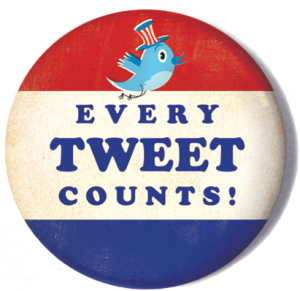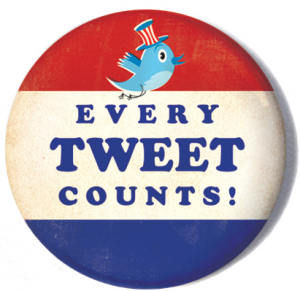 If we take a look at the last two elections, it's evident that President Obama used social media to his advantage. Through social platforms, he advertised his message and reached voters wherever they were at. As President Obama became rooted in and gained platform advocates through social media, his numbers in the polls rose, and he eventually won both elections.
In the past, we relied solely on the polls to determine who the next president would be. Now, we should pay attention to social media as a predictive factor.
But can social media predict the election like the polls can? Is a candidate's total number of followers an indicator that he or she will win the election? And how does this information matter to us as business owners? Read on to learn more.
The debate last night proved that Hillary is running against the "B" team. She won't be so lucky when it comes to me!

— Donald J. Trump (@realDonaldTrump) October 14, 2015
Which Candidates Are Followed Most on Social Media?
Like the polls, social media outlets inform voters of a candidate's standing in the public eye. A cursory glance between social platforms and the primary polls shows the four highest ranking candidates for the upcoming election.
Hillary Clinton
Highest in popularity, Democrat Hillary Clinton has almost 2.2 million likes on Facebook; 5.08 million followers on Twitter; and 659,000 followers on Instagram. The primaries indicate that 48.3% of voters would elect Clinton next November.
Bernie Sanders
Another top Democratic contender, Bernie Sanders maintains just over 2 million Facebook likes; 1.12 million followers on Twitter; and 560,000 followers on Instagram. The primary polls also show that 35.5% of Americans would vote for Sanders next year.
Donald Trump
With over 5.2 million likes on Facebook; 5.63 million followers on Twitter; and 853,000 followers on Instagram, GOP candidate Donald Trump stands as the most followed presidential candidate for this race. And according to the latest polls, 34% of voters would vote for Trump in the next election.
Ted Cruz
Almost 2 million likes on Facebook; 701,000 followers on Twitter; and over 63,000 followers on Instagram place Ted Cruz as the runner-up contender in the GOP. Though his social media following is smaller than other candidates in this list, the primary polls indicate that 20% of voters would choose Cruz as the nation's next president.
No senior should have to choose between paying their Medicare premium and buying groceries. http://t.co/uQM4y4JBYz https://t.co/E5nVyk1sAP

— Hillary Clinton (@HillaryClinton) October 14, 2015
How Do Candidates Take Advantage of Social Media?
These four candidates have caught on to the social media trend. They understand that there is a direct correlation between social media and the polls. The more candidates use social media effectively and the more followers they have, the higher they rank in the polls.
But how do candidates take advantage of this correlation? How do they use social media to increase their poll rankings?
They Post Easily Digestible Information
Social media takes large amounts of information and cuts it down into bite-sized pieces. So if presidential candidates want to gain more voters, their tweets and posts must be short, sweet, to the point, and incredibly persuasive. When candidates reference pop culture on social media, they make these already appealing tweets and posts more interesting.
For example, Trump tweeted (referring to the October Democratic debate), "The debate last night proved that Hillary is running against the 'B' team. She won't be so lucky when it comes to me!" This tweet is simple and bold, yet it is incredibly memorable and swaying. It received almost 7,800 favorites and was shared 3,131 times! Because Trump's followers enjoyed this tweet: They shared it, and in an instant spread his message across social media.
Now take a look at one of Hillary's most recent tweets: "No senior should have to choose between paying their Medicare premium and buying groceries." This tweet makes a statement without catching voters by surprise. Clinton's tweets receive over 1,000 favorites and a few hundred shares at most, but they aren't bold enough to demand attention and spur interest.
Sanders tends to tweet more about his viewpoints and campaign ideals (posts which have a decent following), while Cruz adds area-specific tweets to each state he visits. Like Clinton, Sanders and Cruz spread their messages across social media, but not nearly as effectively as Trump does.
They Instantly And Affordably Mobilize Their Campaigns
Today, candidates rely more on social media to mobilize and amplify their campaigns. Pulses of trending information keep voters up-to-date. And because candidates instantly upload this information on social media, they reach more individuals in more locations at any given time. 66% of social media users use these platforms to repost content, encourage others to vote, and link to news reports.
Social media provides candidates with national fundraising opportunities. Take Bernie Sanders' tweet about Clinton's emails. Sanders blasted the media coverage of Clinton's use of a private email server, and the tweet (which he posted for free) raised well over $1 million for his campaign. Sanders then gained over 35,000 new followers, so his tweets from the Democratic debate certainly amplified his campaign and increased his supporters.
But social media doesn't just allow candidates to raise more campaign funds. It also levels the playing field for all candidates. Social media is incredibly affordable, so anyone can use it to nationally publicize their campaign, regardless of how much money they have. As they use this free advertising, they can spread their campaign more widely.
They Quickly Inform Voters And Gain Advocates
Politicians understand that more Americans use social media to connect with them. As a result, candidates focus their attention on social media to win over undecided voters. Take millennials for example. They are largely undecided and contain a huge percentage of the voting populous and social media users. Consequently, they are specifically targeted by presidential campaigns.
More and more people turn to social platforms to stay updated on the news and social issues. As candidates post about these concerns, they advertise their messages. Who they are and what they can do for this country. Once candidates add their messages to social media, they obtain more platform advocates who can influence the people around them, and these followers can campaign for a candidate from any location, at any time.
Is Social Media A Predictive Factor?
Though social media can't explicitly predict one candidate as the next president, it can shape and influence the circumstances surrounding the race for president. As the election continues to develop, keep an eye on both social media and the polls. Recognize the correlation between the two and consider how social media influences the election.
Social media is incredibly impactful, as indicated by the statistics listed above. So if social media can shape the election, it can shape your business. Follow the steps that the presidential candidates have taken, and use social media to advertise your brand, gain more followers and advocates, and reach new customers in a way most convenient for them. As a result, you'll see how your business can improve and grow.
Kelly Shelton is the VP of Marketing at Boostability and has over 20 years' experience in marketing. He will tell you that he first began his marketing career at age 24 when he was able to successfully market himself to his wife Dawn, the love of his life. They have 5 children together and live in Pleasant Grove. Kelly is fluent in Spanish and loves to travel. He is very competitive; he enjoys sports, binge watching TV shows, super heroes, movies, music and learning about all things marketing. His most enjoyable hobby is spending time with his wife and children.
SOURCES:
http://insider.foxnews.com/2015/10/14/trump-picked-more-followers-during-debate-all-dems-combined
http://www.forbes.com/sites/dandiamond/2015/10/13/bernie-sanders-clearly-won-the-debate-on-twitter/
http://thehill.com/blogs/ballot-box/presidential-races/256875-sanders-raises-13m-with-email-remark
http://www.pewresearch.org/fact-tank/2015/05/19/more-americans-are-using-social-media-to-connect-with-politicians/
http://uspolitics.about.com/od/CampaignsElections/tp/How-Social-Media-Has-Changed-Politics.htm
http://www.latimes.com/business/la-fi-social-media-politics-20150808-story.html
http://www.pewinternet.org/fact-sheets/politics-fact-sheet/
http://crescentvale.com/2014/03/social-media-politics-review/
http://www.politico.com/polls/#.VkoI1narSUk