Special Limited Edition Slipcase and First Year Volume Set

We are very excited to finally be able to offer and start taking preorders on what will be sure to become a coveted and cherished package. Our cover artist, John Lamb, responsible for six of our first ten covers, developed a very unique custom design for this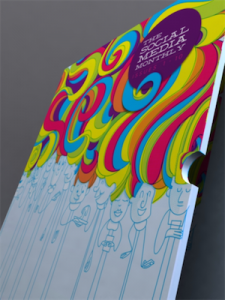 slipcase.
This package will include the slipcase and the first ten issues (Volume 1) of The Social Media Monthly magazine. Yes, everything including the hard to find launch issue by Twitter Fail Whale artist Yiying Lu, sporting a unique removable and reusable sticker in one of five colors, as well as the second issue by artist Jesse Thomas, founder of design agency, JESS3, featuring a double sided pull-out poster with artwork by Jesse Thomas as well.
This set will be limited to a total production run of only 800 sets that will be shrink wrapped, signed and numbered by myself, Managing Editor Rose de Fremery, Art Director Brant Beaupre, Cover Artist John Lamb and Illustrator Walt Wise.
Once they're gone, they're gone. This will make a wonderful thank you gift to your hardworking social media director, manager, coordinator or intern. It's also a great starting point for someone you know that's just learning about social media. Or it might be the perfect gift to yourself for those coveted back issues you're been trying to find.
Don't hesitate to reach out if you have any questions.
–Bob