Semi-Finalists Named In MacArthur Competition For $100 Million Grant
Eight bold solutions to critical social problems were named semi-finalists today in 100&Change, a global competition for a single $100 million grant from the MacArthur Foundation. The proposals address challenges ranging from eliminating needless blindness to educating children displaced by conflict, in places from Nigeria to Nepal to the United States.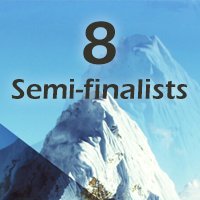 "These eight ambitious proposals exemplify the passion, range, and creativity of the hundreds of applications," said MacArthur President Julia Stasch. "We hope that the competition inspires individuals and organizations to be bold and think big, because solutions are possible."
View overview videos and project summaries for the eight semi-finalists:

100&Change is a unique competition for organizations worldwide to submit proposals promising real progress toward solving a critical problem of our time in any field or any location. There was robust participation: 7,069 competition registrants submitted 1,904 proposals. Of those, 801 passed an initial administrative review and were evaluated by a panel of expert judges who each provided ratings on four criteria: meaningfulness, verifiability, durability, and feasibility. Ultimately, MacArthur's Board of Directors made the final selection.
"It is our hope that these creative proposals will benefit from expert feedback, technical assistance, and public attention," said Cecilia Conrad, MacArthur's Managing Director leading the competition. "And that they attract funding from other sources, even if they do not win 100&Change."
Each semi-finalist will next work with an expert team to address questions about their technical and organizational capacity. The expert team will provide feedback to the semifinalists to inform proposal revision and will submit an assessment to MacArthur's Board. The semi-finalists will also be asked to show authentic engagement with their target communities and other relevant stakeholders.
MacArthur's Board will select up to five finalists in September. Finalists will present their proposals during a live event on December 11, 2017, before the Board names a single recipient to receive $100 million over up to six years.
100&Change was designed to be fair, open, and transparent. The identity of the judges and the methodology used to assess proposals are public. Applicants will learn how their proposal was evaluated and will receive comments from a panel of expert judges. Key issues in the competition are discussed in a blog on MacArthur's website. A public, searchable database of all the proposals will be posted online later this year.