Media and Entertainment Brands Need to Get Social Savvy
By Elvis Lieban
In 2018 the lines are getting further blurred between content creators and distribution platforms in the Media and Entertainment Landscape. Media companies are continuing to move towards direct-to-consumer offerings, unbundling their content from streaming platforms, and streaming platforms are becoming media companies in their own right generating more original programming in 2018. Netflix alone is planning to spend nearly 8 billion on original content in 2018 – spending that puts them on par with traditional media companies like Time Warner, Fox and Disney.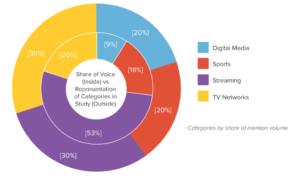 This content boom is intersecting with another trend in the consumer space: mass customization. Consumers expect more tailored and personal experiences from brands than ever before. Fortunately, more data on what customers want is available than ever before. Consumers are sharing their experiences and preferences for media and entertainment at-large on social media meaning brands have more opportunities than ever before to learn about consumer preferences and design targeted content; so, it is critical for Media and Entertainment brands to leverage social media. Deloitte's 2018 Media and Entertainment Outlook found that social media is the no 1 way people learn about new shows.
It's these consumer experiences that we were looking to uncover in this year's NetBase Social Media Industry Report: Media & Entertainment. To better get an understanding of the Media and Entertainment landscape we examined the social media conversation of top brands across four categories of Media and Entertainment: Digital Media, Sports, Streaming, and TV Networks from April 2017 to April 2018. Taking this approach enabled us to compare both individual brand performance as well as performance across categories.
On social media, streaming brands claimed the majority of the share of voice – gathering 53% of mentions for all brands researched while representing 30% of the share of brands. That doesn't mean that traditional media is on the way out – TV Networks have a strong hold on the news, and premium networks generate passionate conversation around their signature content brands.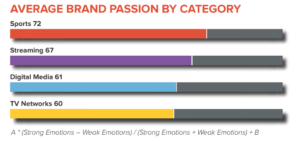 Going beyond summary metrics we took a deeper dive into consumer passion for these brands. It's one thing to look at measures like conversation volume and net sentiment. Those are good measures of volume and good/bad, but are people passionate, or indifferent about Media and Entertainment brands?
We found that sports brands command the most passion on average (72) compared to the other categories – Streaming (67), Digital Media (61), TV Networks (60). People are most passionate about Football and Streaming (48% brand passion index). While the NFL may win TV ratings, when it comes to brand passion, the NBA beats it out.
The most loved brands by category are:
Digital Media– New York Times (6) and The Guardian (9)
Sports–NBA (2) and Premier League (3)
Streaming– YouTube (1) and Netflix (10)
TV Networks– ESPN (8) and The BBC (12)
The popularity of sports is a boom to traditional media as the rise of streaming has whittled away at the concept of appointment television. Sports earned 18% of the share of voice, out-performing both Digital Media Brands and TV Networks for relative share of conversation.
However, live sports won't be a lasting advantage for media providers. Virtual multichannel video programming distributors like FuboTV, and even offerings from YouTube and DirecTV are bringing linear, live television (including sports) to any device with an Internet connection. According to Deloitte, these vMVPDs already hold about 20% of the overall US Subscriber Market.

Another word of caution – your brand needs to be looking into switchers – with increasing number of cord cutters, and more competition than ever, it's never been easier to switch services. Consumers are looking to social media for suggestions on which services they should switch into and out of. If you're not monitoring the switching situation you're missing an opportunity to keep your customers happy, and to woo users away from the competition.
The good news? The recipe for success is no secret for Media and Entertainment brands on social media. It's all about the fundamentals – high quality content will always be popular. Matching high quality entertainment with the right audience on social is a winning combination, and with growing customization and the rise of deep social analytics – it's easier than ever before to make that match. Review the full ranking and more best practices in the full Media and Entertainment report.
Elvis Lieban is Director of Social Insights for NetBase Solutions Inc.