Is Social The Future of Online Gaming?
A few years ago, we covered the launch of Bingo Friendzy, which was the first real money gambling game, targeted at British users, permitted to operate on Facebook. Since then social gaming has taken off in a big way, with major casino game developers expending significant resources to bring the next generation of games to our screens.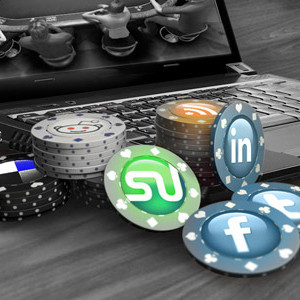 So is the hype about social games, and what they offer, above and beyond traditional slots and table games? For one thing, the slots we play today are very similar to those first released back in the 70s. There may be better graphics and a few bonus games, but the basic model of "insert money, press button, wait" has remained static.
Of course, computing power has come a long way since then and it's now more than possible (from a coding standpoint) to create games with interactive elements, missions and quest elements. A good example of this trend is Odobo's "Gourmet Ranch Riches," which invites players to grow crops and create recipes, with outcomes affected by the player's strategy.
The other main thrust of social gaming is to create a sense of community, rewarding players for sharing their achievements; or even adding elements which require multiple players to compete (via social media). Many social games also have progressive jackpots, which grow each time the game is played by anyone. Bingo Friendzy incorporated many of these elements, including a "community" progressive jackpot and live chat.
As you might imagine, creating true social games involves overcoming challenges. One advantage of slots is that their theoretical payout is exactly known before release, but with strategic social games, that may be much harder. Bingo Friendzy did cause a huge stir, and attracted a large number of paying customers, but plays more or less like a traditional slot game. That isn't to say Bingo Friendzy wasn't a game changer for social gaming; but it was still a first step towards the kind of games we will see in coming years.
Since the release of Bingo Friendzy, a number of high profile private equity buyouts have rocked the gaming industry. The largest to date has been Amaya's $4.9 billion purchase of Pokerstars, but Gamesys (which launched Bingo Friendzy) also recently struck a deal to sell key casino brands to Intertain, a Canadian investment group. It is widely believed that these purchases represent jostling between large investment groups seeking a toehold in America's online gambling market. Online gambling has been illegal under Federal law since 2006, but many individual states have put in laws licenses, and tax the industry (which is fully legal).
Private equity cash will be a huge boost to casino development teams, who will be able to hire top designers from the games industry to work on cutting edge social releases. The $41 billion gaming industry is set to get a lot bigger when the US market opens, and we may now be witnessing a perfect storm of technology, talent and cash which will fundamentally change the way we gamble online.