Insurance Policies Every Business Needs
Just as individuals need health insurance, car owners need auto insurance, and real estate owners need homeowners insurance, business owners need to be certain that they purchase the appropriate and legally required insurance policies to protect their companies. Which insurance policies are mandated by law for all businesses, particularly those that hire employees? Keep reading to learn more so you can purchase the insurance you really need.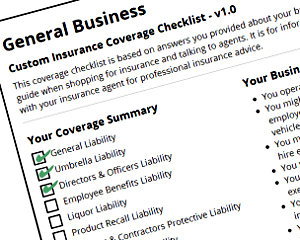 Workers' Compensation Insurance
If you're planning on hiring employees to work for you, you'll be required to purchase workers' compensation insurance. You can do so through your state's Workers' Compensation Insurance program, via a self insured route, or via a commercial carrier.
Essentially, this type of insurance will protect you in the event that one of your employees is hurt while on the job. The coverage will provide the employee with medical benefits and wage replacement so that you won't be held financially liable for these costs. Also, because the employee will be receiving these benefits, he or she will give up the right to sue you for the accident, so it also protects you from having to deal with a lengthy legal process.
Professional Liability Insurance
Some businesses are also required to purchase professional liability insurance, which is also referred to as Errors and Omissions Insurance. If you are an accountant, notary, consultant, lawyer, insurance agent, real estate agent, a technology provider, or a stylist at a beauty salon, this insurance will be necessary to protect you in the event someone sues you for damages that are the result of improperly providing your services.
General liability insurance policies won't provide this level of protection for these types of professions, so you will need to take out a separate policy. Click here to learn more about professional liability insurance.
Disability Insurance
Some forms of insurance are only required by law if you live in certain parts of the country. Therefore, looking into your local laws is an important step in determining the policies that you truly need. A good example is disability insurance, as this is not a requirement in all fifty states.
If your business is in Rhode Island, Puerto Rico, New York, New Jersey, Hawaii, or California, you will be required to have disability insurance in place. This will replace partial wages to employees who have suffered from injuries or illnesses that are not work related.
General Liability Insurance
Every type of business, including those that are home based, needs to purchase general liability insurance, which will provide you with damages and defense if you, your employees, your services, or your products cause any property damage or bodily injury to a third party. In other words, if you are ever sued for any reason, general liability insurance will have you covered so that you will not suffer substantial financial losses.
There are a variety of business insurance policies available to suit every type of company out there. Doing your research ahead of time will ensure you purchase all of the coverage you need to fully protect yourself and your company.