How To Craft The Ideal Customer Acquisition Strategy
Behind every successful business, there are customers keeping them afloat. Customer acquisition is the life line for all companies, and without finding new customers, you cannot make money and you cannot grow. Applying an effective customer acquisition strategy is a valuable and vital marketing campaign that'll help your business succeed in the long run.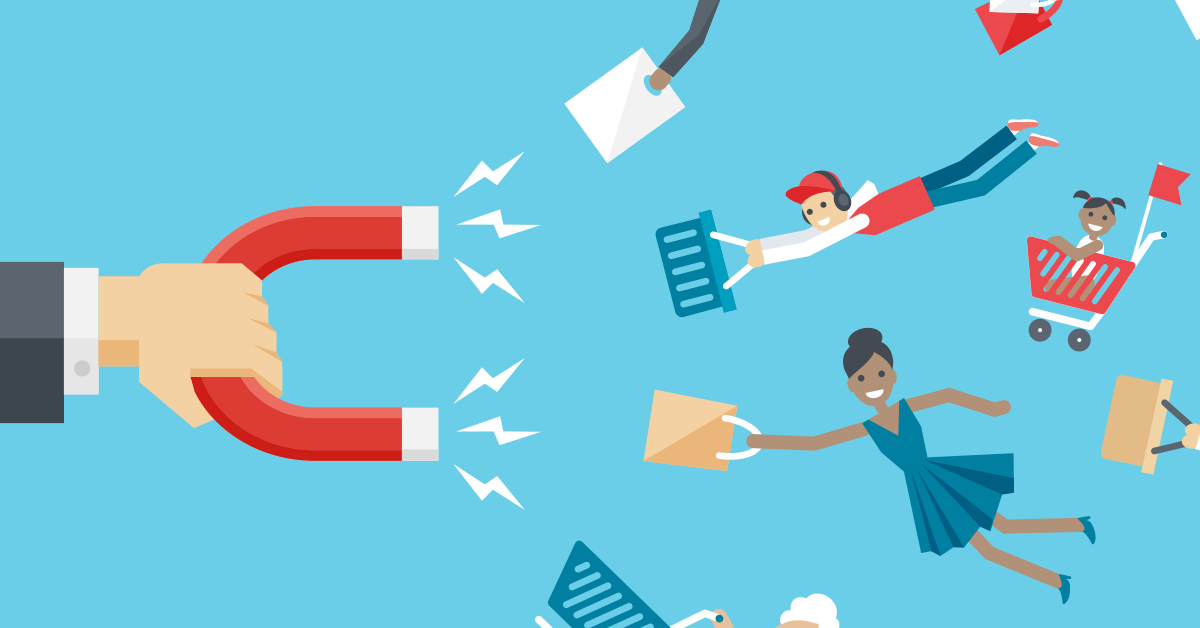 The process of bringing in new customers though, is more challenging than initially perceived. They say that it costs five times more to acquire new customers than it does to retain them. So with that statistic, every $5 you spend bringing in a customer, you only spend $1 keeping them loyal to your brand. Knowing this, you'll want to ensure your customer acquisition campaign is as effective as possible, because the costs can amount to large sums of money in the long run.
Overall, the main goal is to curate a customer acquisition plan that spends the least amount of money, and takes up the least amount of work to find and bring in as many new customers as possible. Here's how to craft the ideal customer acquisition strategy, with the best return on investment (ROI).
Build Engagement
It's very unlikely that a first time visitor will stumble upon your website and happen to buy your product or service. To get people to part with their cash, you need them to trust you and believe in your brand. You need to engage with them and build confidence between your company and your future customer. Otherwise they'll turn to a competitor who has more authority, and who they already have relationships with.
Find ways to connect with your consumers. You should turn to your sales and marketing teams, and hold in-depth meetings where everyone can discuss the demographic they're trying to reach and convert. Look toward your current customers and ask them what drew them to your brand, why they still use you, and if there are any areas of improvement.
There are many ways you can open a dialogue with consumers, and many marketing channels are most likely already in effect, but not causing enough traction. For example, you can increase engagement with the following:
Email Marketing
Social Media Marketing
SEO (Search Engine Optimization)
All the above tactics should be encompassed in your customer acquisition strategy, and then continually used to help retain the customers you've assimilated. However, when putting these tactics in place, limit your spending and keep track of your budget.
Email Marketing
Before you send out emails to customers, you must understand the difference between email marketing and spam. Today, people are intolerant to generic emails catered to a list of people and a whole demographic, rather than tailored to them, a real person. Of course, no business has the time to sit down and send 100% personalized emails to each recipient, however, you should be writing to individuals who have similar wants, needs and questions.
When finding new customers via email marketing, you need to understand the demographic you're targeting. Collect data on your current customers, and segment your findings. According to Campaign Monitor, the marketers they studied found a 760% increase in email revenue once they applied segmentation to their email marketing campaigns.
Social Media Marketing
Many of us, and most in the younger generations, spend our time on social media. We live our lives, and layout our plans, thoughts and feelings on Facebook, Instagram and Twitter. And although it may be frustrating when your friend is uploading the hundredth selfie, social media is a line of communication, ideal for businesses.
Rather than stick to the tired, traditional marketing methods, Facebook, Twitter and Instagram can be easily monetized when used effectively. People are more likely to trust a brand who has an active social media presence, rather than one that has poor online visibility. Think of social media as an online 'word of mouth' marketing, that is highly effective and more fruitful than the original method.
The cost of not being involved in social media is rising every day, meaning businesses need to sign up today if they want to stay relevant. Here are the top social media platforms and how to use them for customer acquisition:
LinkedIn: To build authority in your industry, publish content that's unique, informative and original. You want to market yourself as a thought leader. Someone who is knowledgeable and a valuable resource for consumers. By doing so, you'll be highlighting your skills and expertise, without overtly promoting your brand.
Facebook: Having a Facebook page makes your business more trustworthy. It also allows you to reach out to new clientele without high costs. In this digital age, people are found online. Post giveaways, sales, discounts and respond to customers. Have people share your brand with friends and family, and provide easy to find contact information and a link to your website.
Instagram: If your brand is visually stunning and relies on aesthetics (think clothing, etc.), then Instagram is the ideal platform for your business. Post photos of your products, engage with customers, and employ marketing influencers who wear or use your brand and expose you to their large volume of followers.
Twitter: Starting conversations with potential customers can be tricky, but opening a dialogue with people over Twitter is a great way to be noticed. Look for your niche on Twitter, and respond to any tweets with relevant and informative information. For example, if you're business sells vegan produce, look for vegans and suggest your brand if they're looking for new brands to try.
SEO (search engine optimization)
There's little point finding new customers if they cannot find you on the internet. For people to click onto your website, you need good online visibility. By ignoring SEO tactics, you're limiting your reach and potential.
Google's objective is to provide the most relevant search results possible, and they are constantly tackling black hat SEO and 'spammy' sites that are untrustworthy, and built only for profit, not for the user. Your SEO campaign then needs to abide by Google's rules. If you're unsure how to implement an effective SEO strategy, then turning to the professionals at Denver SEO means you can get the most effective results.
For new customers to find you, and to build online authority, you need to produce great content and build connections. It sounds easy, but SEO is for the long haul, and not a short term fix you can apply for instant results.
Great content is not easy. It takes expertise and it can take time. You need to solicit the help of knowledgeable and expert writers, whether it's for on-site or off-site purposes, and fully optimize the content with appropriate keywords and anchor texts. Overall, your content should be concise, informative, unique and offer something of value. If you overstuff keywords, then Google will penalize you.
While on-site content will be going on your website, off-site content is pointless without connections. You need to network with bloggers, and have them post your content or ask them to review your product or service and mention you to their audience. Marketing influencers are huge, and can be impressionable to their followers. Therefore, by having content optimized for SEO posted on their blog, you're increasing your brand's visibility and creating a trustworthy image that'll build your number of customers.
Acquiring new customers can be tiresome and costly, however, it's imperative as customers are the backbone to your company's success. However, once you've found your demographic and found new customers, retaining them is far less costly and time-consuming.