Brooks Social Media Bill Passed by House
Legislation introduced by Congresswoman Susan W. Brooks (R-IN5) providing the private sector new opportunities to drive social media innovation in emergency preparedness and response was passed by the U.S. House of Representatives today. The Social Media Working Group Act of 2015 expands both the membership and influence of the Department of Homeland Security's Virtual Social Media Working Group and requires it to file a yearly report with Congress.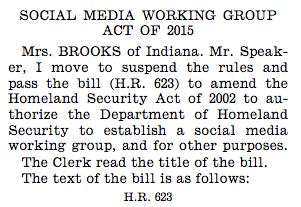 "Social media has the power and potential to drastically impact the future of emergency preparedness and response" Brooks said. "It's clearly a tool that can be used to save lives when disaster strikes. Thus, first responders and federal, state and local officials must have up to date guidance and best practices on its most practical and important capabilities. Moreover, the private sector innovators designing and disseminating these 21st century tools must have a voice at the table when emergency management stakeholders are making consequential decisions."
The Virtual Social Media Working Group has held meetings since 2010. By requiring the group to file a yearly report with Congress, the legislation ensures members of that the U.S. House and U.S. Senate have an opportunity to review findings and address areas of need. It will also ensure local officials have access to annual guidance on using social media to effectively disseminate critical information.
The legislation expands the diversity of voices providing expertise and offering solutions to policy makers. In addition to the current chair of the working group – the DHS Under Secretary for Science and Technology – the new working group will be co-chaired by a state or local official. The bill also requires members of the working group to come from outside of government. This will include representatives of the private sector, non-profit disaster relief organizations and academia.
The updated working group is required to hold its first meeting within 90 days of the enactment of the legislation. Its yearly report must address several factors including best practices, recommendations for improving the use of social media and information sharing, and a review of the training available on using social media.
Congresswoman Brooks chaired the Committee on Homeland Security Subcommittee on Emergency Preparedness, Response and Communications in the 113th Congress. This legislation was previously passed by the House in July of 2014.
To read the Congresswoman's emergency preparedness and response op-ed in Social Media Monthly, click here. To learn more about Congresswoman Susan W. Brooks, please visit: www.SusanWBrooks.house.gov.