Fallon, Meyers Scoring Huge on Social Media, Even Stealing Competitors' Social Strength
By Asher Feldman
More than a month into NBC's new late-night duo of Seth Meyers and Jimmy Fallon, the network must be overjoyed with the performance of its post-11:30 PM programming, Fallon's "Tonight Show" especially.Piggybacking off unilateral social media support and an already growing audience in the 12:30 AM timeslot, Fallon was eased into the "Tonight Show" chair in mid February and has done only positive things — increasing his ability to dominate the late-night social scene and delivering NBC strong ratings every night of the week.In fact, when comparing the ever-growing roster of late night competitors — Fallon, Meyers along with CBS' Craig Ferguson and David Letterman, ABC's Jimmy Kimmel, TBS' Conan O'Brien and Arsenio Hall in syndication — Fallon's show dominates social with ease. When measuring overall social chatter, Fallon's "Tonight Show" has gathered more than 62 percent of the overall social mentions across the grouping since its Feb. 17 premiere to March 26 of this year.
That itself is up from Fallon's already impressive 40 percent share of the late-night social chatter during the same time frame in 2013.There's no denying what a social force Fallon is. And Fallon's widespread success on social media has influenced his competitors; they've all established, and rely upon in one way or another, a social presence.But things have changed for the Letterman, Kimmel, Ferguson, Hall and O'Brien collection since Fallon made the switch from "Late Night" to "The Tonight Show," and not just because of the stodgy and seemingly anti-social team that surrounded Jay Leno. Nowhere is Fallon's impact on his competitors more apparent than on social media.When you factor in Fallon and compare the share of chatter the shows claimed during the same Feb. 17 to March 26 time frame in 2013 to 2014, surprising trends are revealed. Plus, adding Meyers into the mix as Fallon was transitioning certainly played a big role in the shifting tendencies of chatter on the web about late night TV.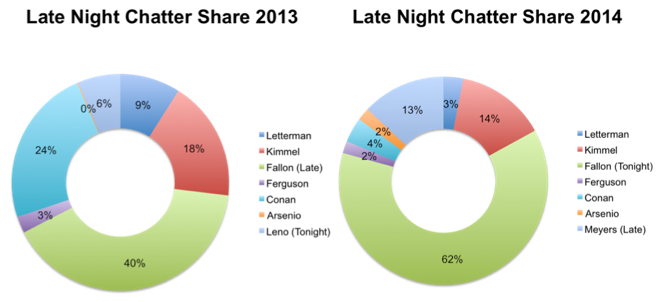 Kimmel, who's spot on ABC has survived on its own for more than a decade, saw his show's chatter share drop from 18 percent to 14 percent when comparing the two time frames — not all bad considering the appearance of Hall and Meyers in the year between the measured periods. Ferguson, too, hasn't suffered much, going just from 3 percent to 2 percent.
The problem spots begin to emerge in the more entrenched late night kings. Letterman, whose "Late Show" has survived for 21 seasons, was riding comfortably with 9 percent of the chatter during 2013, but has fallen steadily to just 3 percent since Fallon's appearance.
The real social loser in all this, however, seems to be O'Brien. His "Conan" on TBS has proved game changing on the social front since the show's inception in 2011, but Team CoCo has seen its share of the chatter drop from a strong 24 percent in 2013 to just 4 percent since Fallon premiered in the "Tonight Show" slot, which ironically was O'Brien's for just more than seven months.
Granted, in the month and a half since Fallon premiered, social media mentions in the late night TV landscape have more than tripled from the same period in 2013, so it wouldn't be unexpected for Conan and Letterman to rebound as Fallon settles in. But with Fallon already dominating ratings and showing no signs of slowing down, perhaps social media is foretelling struggles in the late night departments that don't boast the NBC logo behind them.


Asher Feldman is an analyst at General Sentiment, a Long Island, N.Y.-based social media analytics firm. Find them on Twitter
@gensent
.

Latest posts by Asher Feldman (see all)