Black Friday: Total Social Rankings of Top U.S. Retailers
By Bryan Segal
[dropcap style="font-size: 60px; color: #000000;"]A[/dropcap] retailer's entire year is often determined in the months leading up to the holiday season. Social media is a major avenue for retailers to utilize to increase brand awareness and showcase holiday campaigns to drive both in-store and online sales.
On Facebook, Nordstrom ranked first place with the highest overall eValue score, as well as the strongest fan Engagement. With the highest active user base and the most likes per 1,000 fans, the brand's following was extremely engaged with its visual content showcasing its merchandise. Despite ranking sixth overall, Kohl's had one of the highest fan bases and ranked first for Impact, frequently posting content for its followers to share. However, its Responsiveness score brought the brand down in the overall eValue ranking. The highest Responsiveness score was secured by Lowe's, however the brand's low Engagement score brought its overall eValue ranking in at tenth place.
Top Ten U.S. Retailers – Online and Word of Mouth Conversations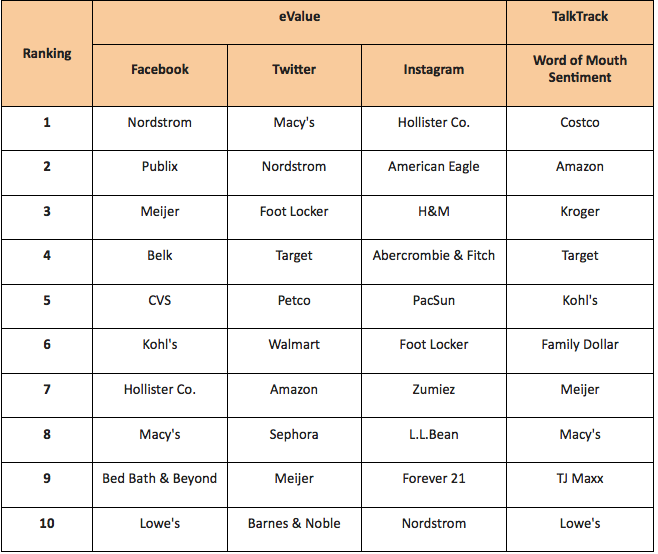 Macy's ranked first on Twitter with both the highest overall eValue score and Responsiveness score. The brand actively opened up two-way conversations with its followers and boasted the highest response rate of the group and had an impressive average response speed. However Nordstrom, ranked second, and had the fastest response time of the group with 17 minutes.  When looking at Engagement scores, Engagement labs found that Meijer, which ranked tenth place overall, had the highest Engagement score  Even though Meijer's had a very engaged audience, the brand had a significantly smaller follower base than some of the top ranked brands which affected the brand's overall Impact score.
According to our Instagram data, clothing retailers dominated the top ten with Hollister Co. taking first place with an eValue score of 94.97. American Eagle, ranked second, and had the highest number of posts and most active user base, which resulted in the highest Engagement score of 86. Third place for overall eValue score was granted to H&M with the highest Impact score and Responsiveness score. The brand had the highest number of followers and experienced the largest increase in follower growth during the time frame measured.
While we're seeing large clothing retailers like Nordstrom, Hollister Co., American Eagle and H&M excel online, we also are seeing that their online success isn't necessarily translating offline. With social media focusing on visuals, it's no surprise these clothing brands are performing well on social. As indicated by our TalkTrack Word of Mouth rankings, their social media strategies aren't converting into positive conversations offline. Instead we're seeing retailers like Costco, Amazon and Kroger taking top spots for WOM sentiment, as they offer a wide range of products that are driving conversations.
Knowing how a brand is performing both online via social media and how fans are discussing your brand offline, helps brands gain a better understanding of areas for improvement so they can work to grow their followings, drive greater amount of conversations and ultimately drive sales through the holiday season.
Bryan Segal is the CEO of Engagement Labs.